By Susan Duclos – All News PipeLine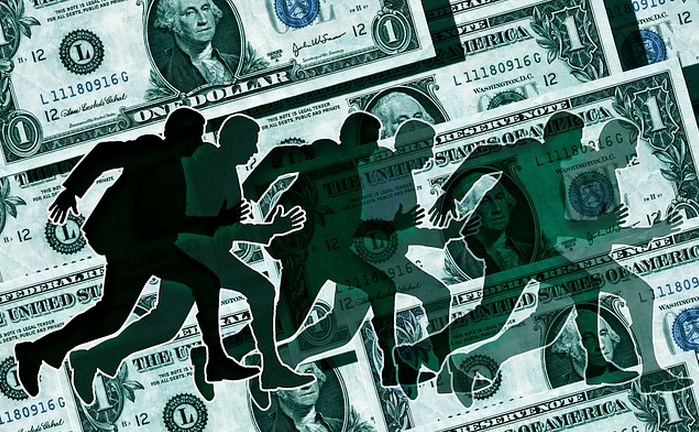 Over the last year a number of events have occurred which are indicative of a major, organized operation aka false flag attack, which has been in the works, utilizing the media to "prepare" the public to blame outside sources for the ultimate fall of the US economy.
In December 2014 ANP reported the Department of Treasury started soliciting bids (solicitation embedded at link) for survival kits for the employees of major banks such as Bank of America, American Express Bank, BMO Financial Corp., Capitol One Financial Corporation, Citigroup, Inc., JPMorgan Chase, and Wells Fargo, with no official explanation for this unprecendented move which is usually reserved for the military, or law enforcement such as the FBI.
While the US government has not given any explanation for the solicitation, it is apparent from the very existence of it that the administration was making preparations for "something."
Recent media reports have highlighted the extraordinarily fast rise of the supposed cyber-arm of ISIS, dubbed the "cyber-caliphate," with reports of their supposed hacking of CENTCOM social media accounts, as well as claims of hacking into US military computers, posting the names and addresses of military members.
An example of this new boogeyman comes from an April 12, 2015 article in The Guardian, which is a representation of the way the media is framing the message across the board.
Still, Isis has drawn in elite hackers, a group that often thrives on a challenge. The risk they might venture beyond propaganda or cyber-theft to substantive attacks on cities and infrastructure may be small, but it is certainly real. Far too little is being done to analyse and prepare for the threat, by governments or the companies that run our power and our water, our transport, our banks.
Another example comes from IT Governance, who highlights a warning from General Keith Alexander, the former director of the National Security Agency (NSA), who " told attendees at a private dinner held by HIS CERAWeek in Texas that the West is unprepared for cyber attacks on critical infrastructure and that the 'doomsday' scenario was a 'a hi-tech blitz on refineries, power stations, and the electric grid, perhaps accompanied by a paralyzing blow to the payments nexus of the major banks', according to the Daily Telegraph. "
Basically what we are being prepared for is a major cyber attack which will effect the entire banking system… notice how reports always manage to include a reference to banks.
In researching this, I ran across two recent related alerts over at Steve Quayle's website in his SQ Alert section.
Via the April 26, 2015 alert:
Just got some more intel, 30 year friend of the family, who's brother is a high level bank executive just told my dad that her brother has removed all investments out of the bank in which he is employed. This is to include 401k, cash, safety deposit box now empty his reasoning is something big is about to happen to the banking system very, very soon on other details were forth coming.
Via the April 28, 2015 alert:
FROM BIG FIVE BANK INSIDER-THIS INFORMATION WAS DELIVERED ,THAT I WAS INFORMED ABOUT YESTERDAY.A PENDING SYSTEMATIC CYBER /HACK ATTACK IS SCHEDULED TO TAKE PLACE WHEN "THE GO' ORDER IS GIVEN:CYBER ASSASSINS WHO HAVE INFILTRATED BOTH TIER 1 AND TIER 2, BANKS IN AMERICA, AMERICAS LARGEST BANKS, ,ARE WORKING FEVERISHLY TO INITIATE THIS ATTACK WHEN THE 'ORDER IS GIVEN'.AS THIS ATTACK WHEN IMPLEMENTED WILL CA– USE THE WORLD'S FINANCIAL SITUATION TO BECOME DIRE AND A 'FINANCIAL DOMINO LIKE' MELTDOWN WILL TAKE PLACE,ONLY THOSE COUNTRIES PRIMARILY RUSSIA AND CHINA 'WHO HAVE AMASSED GREAT STOCKPILES OF GOLD WILL SURVIVE AND COME FORTH WITH A NEW CURRENCY WHICH WILL BE BACKED BACKED BY GOLD! THE WEST WILL CEASE TO BE THE FINANCIAL DRIVER OF THE WORLD'S ECONOMY AND RIOTS WORLD WIDE WILL EXPLODE-I WOULD STRONGLY SUGGEST THOSE OF YOU WHO HAVE CONTACTED ROSS POWELL AT (SURVIVAL401K.COM) PROCEED IMMEDIATELY IN YOUR ACQUISITION PURCHASES, THROUGH YOUR SELF DIRECTED 401K PLANS THAT ROSS HAS SET UP FOR YOU, TO TAKE POSSESSION, OF YOUR PRECIOUS METALS POST HASTE- THE COUNTDOWN CLOCK IS FULLY UNDERWAY,AS THE MIDNIGHT OIL BURNS HOTTER THAN YOU CAN IMAGINE, TO TRY AND MITIGATE THIS CYBER HACK/ATTACK THAT IS WAITING FOR THE GO SIGNAL! THIS WOULD ALSO BE PART OF THE REASON FOR JADE HELM 15 WHICH IS SUPPOSEDLY STARTING IN JULY ,BUT SEEMS TO BE UNDERWAY ALREADY ,IN SOME STATES-"81 DAYS TOO EARLY" IS BETTER THAN ONE SECOND TOO LATE!