THE GREAT SCAMDEMIC OF 2020 IS COLLAPSING
Imagine Hell on Earth Because That's What's Coming Unless Americans Start Resisting
31 Aug 2020 posted by Weaver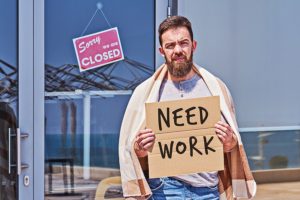 Unemployed guy with signboad NEED WORK near closed door office or cafe. Unemployment during coronavirus Covid-19 crisis, concept of job loss
This Year's Economic Destruction Due to the State's Coronavirus Response Will Pale in Comparison to What Is Coming!
By Gary D. Barnett
LewRockwell.com
"It is important to remember that government interference always means either violent action or the threat of such action. Government is in the last resort the employment of armed men, of policemen, gendarmes, soldiers, prison guards, and hangmen. The essential feature of government is the enforcement of its decrees by beating, killing, and imprisoning. Those who are asking for more government interference are asking ultimately for more compulsion and less freedom."
Ludwig Von Mises (1990). "Economic freedom and interventionism: an anthology of articles and essays"
Concerning economics in the United States today, the hierarchy begins with the top tier of self-proclaimed elites, those in central and high level banking, those in the large corporate world, those at the top of the 'healthcare' pyramid, and those controlling monetary and economic policy above the level of government, including the class running the large tax exempt foundations.
While government is below this level, it is nonetheless responsible for the economic carnage because it is the initiator and enforcer of policies meant to enrich the few at the top at the expense of the many.
This could never be more evident than it is today.
This 'Pandemic' has Proved to be a Fraud
This country has gone through hell this year due to policies put into place to combat what has been called a deadly 'pandemic.'
Considering our history, and current numbers of total death, this 'pandemic' has proved to be a fraud.
Apparently, that matters not, as the public at large has accepted the propaganda, and has given in to immense draconian measures that have devastated this economy and the natural health of the population.
So far, things have gone exactly as planned, and the people have surrendered to the hype to such an extent as to allow the destruction of their natural immune systems and in many cases their livelihoods.
This does not bode well for the future if the current trend is not reversed.
Destruction of Jobs and Small Busineses Just the Beginning
The bloated economic systems worldwide have been inflated by a constant increase in the money supply for at least the past 12 plus years.
This year alone, that expansion has exploded exponentially, and with no end in sight, and was of course blamed on a virus outbreak.
With this kind of expansion, and the coinciding response of lockdowns, business and travel closures, quarantines, and fear mongering, prices have dramatically escalated and unemployment has skyrocketed.
Businesses across the country have been shut down, many permanently, and many have been forced into bankruptcy.
These of course are small and medium sized businesses for the most part, the backbone of this country. The unemployment caused by this harsh and unwarranted government response, has been unimaginable, and has led to over 40 million people being out of work.
This alone has the potential to destroy the economy of this nation, but this is just the beginning.
The Plan for Global Governance
The destruction of the economy is a necessary aspect of the plan to advance global governance.
The more people out of work and dependent on government means that they will be much easier to control.
Already mass poverty is evident, and with food supplies dwindling, and so many unable to support their families, starvation among a large part of the population is certainly possible if not probable.
These are agendas sought by those in the ruling class that need total compliance in order to restructure the global economic system.
This economic collapse coming was imminent, but now is being pushed forward at great speed in order to use this virus scare as the scapegoat for a desired economic reset.
Without Refusing to Bow to State Orders this Country is Doomed
The biggest threat we face now is this coming fall and winter, as this flu season will most likely be much worse than normal due to the purposeful weakening of the immune systems of most Americans.
Refusing to bow to state orders, and not accepting any political authority, would certainly stop this onslaught of tyranny in its tracks, even if just a small percentage of the population were to say no to this government response.
That has not happened so far, but without that dissent, this country is doomed in my opinion. Imagine what has happened over just the past 6 months, and then double or triple that response.
The response seen to date will be dwarfed by the response this winter if the death toll is higher as I predict, and most all those deaths will be blamed on this thing called Covid-19.
Much Harsher Measures to Come
It appears that a manufactured ramp up of the state response is coming very soon, as this has been telegraphed for some time by the government and the state run mainstream media.
The warnings have been out in the open, and this is with no knowledge whatsoever of what will occur this season.
A set up is in place, and the planned next wave is ready to launch in just the next few weeks.
Already around the world, much more brutal and oppressive measures are being advanced for non-compliance of mask wearing, distancing, and quarantine evasiveness.
It appears that this is in anticipation of much harsher measures to come, and the rulers need to get the public used to an amplification of enforcement so that necessary changes can be made.
If Mass Compliance Continues, Life as we Know it Could End Before Spring
This fall and winter is the most important time for this country, maybe the most important time in history. If mass compliance continues, and if dissent by large numbers of Americans is not forthcoming, life as we know it could end before spring.
The global reset by that time could be advancing at such a pace as to be almost impossible to stop.
That would be an untenable situation, as once this reset is in high gear, and even more people are destitute, it will be much more difficult to reverse this totalitarian plot.
Imagine Hell on Earth
With more lockdowns, more quarantine, more isolation, and more destruction of the economy, unemployment will balloon to unheard of levels, causing even more sickness, death, and tyranny at the hands of the state.
In addition, the more deaths that occur, the more draconian the policies will become, and the carnage brought by the evil response to this so-called virus will not relent, it will only get worse.
Imagine unemployment at 50%, 60%, or more?
Imagine no food on the shelves, and no ability to support or feed your families?
Imagine hell on earth.
A Mandatory Global Vaccine is Coming
This is all leading to a mandatory global vaccine that will be released some time this fall or winter.
If most of the masses line up for this vaccine, something that is now looking possible, the resulting effects of these toxins that are unknown at this time will have already been put into play inside the bodies of most of the population.
What harm will that bring, and will it be irreversible?
At this stage, the plan for global governance will have advanced, and we would be on track to establish a cashless society, with all monetary systems becoming digital.
This will signal the end of an era that began with freedom, but will end in death, destruction, slavery, and tyranny.
This cannot be allowed to happen.
"The welfare of the people in particular has always been the alibi of tyrants."
Albert Camus (2012). "Resistance, Rebellion, and Death: Essays", p.101, Vintage
Gary D. Barnett is a retired investment professional living and writing in Lewistown, Montana. Visit his website.
The Entrepreneur's Guide to Creating a Home Office
By Tina Martin 8-29-20
Throughout the COVID-19 pandemic, most businesses have had to start allowing remote work
in order to continue operating. Because so many professionals are now open to telecommuting
out of necessity, entrepreneurs launching home-based businesses have new opportunities to
thrive as long as they invest in functional, personal workspaces and effective technology. If
you're an entrepreneur starting a business from your home, these tips will help you design a
home office that will allow you to compete with larger companies.
Time to Move?
If you have plans to expand your business, and you're currently living in a small home, you may
already be thinking about relocating. Start researching home prices in your area and check out
properties with spare rooms that you could turn into an office. You could also get in touch with a
local real estate agent for advice on the market in your region. Depending on your current
financial situation, you may be eligible for assistance from the short sale specialists at Homeowner Help Now.
Building a New Space
If your home is lacking when it comes to space, but you know that moving isn't the right choice for you, perhaps building an addition or even a basic shed is the right next step. If you've been looking for an excuse to start an addition, this could be it! And with enough space in your backyard, you can easily build a custom shed to house your furniture and office supplies.
Furnish a Spare Room
Perhaps you have a guest room that you rarely use or a spare corner of your living room that could easily be turned into a home office. If so, you'll want to start setting it up with a few key pieces of furniture! You'll definitely need a desk, and you'll also need a comfortable chair for long workdays – Fit Small Business recommends choosing an adjustable chair with breathable upholstery.
In addition, this is a good time to invest in other essential tools, like a printer, a new laptop, or dual monitors for better productivity. When you're buying these pricier items, it's smart to look out for sales at office supply stores to save money.
Secure Your Office
If you are keeping anything valuable in your home office, you may want to purchase a safe and install a lock on the door, just in case! But you should also think beyond physical security. As an entrepreneur who will be working online, you also need to consider cybersecurity. Set a password for your computer and any other devices, take steps to protect your identity online, and if you ever worry that one of your accounts has been hacked, contact a customer service representative immediately. If you need assistance in regard to information security, you may want to hire IT support through a freelance job board.
Get Organized
Finally, it's time to set up an organizational system to keep track of all of your belongings and make sure that you don't get distracted by clutter during the workday. You may want to purchase a filing cabinet to store important documents. If you really want to save on space, consider uploading some of your files into a digital storage system, which is a simple and affordable solution.
Robert Half suggests leaving only essential items and tools on your desk so that you're not dealing with messes while working. Therefore, if you have a small desk, you might want to think about taking advantage of your available wall space and installing floating shelves. This is also a great way to display decor for personal flair.
Starting your own business is a lot of work, but having a quiet space where you can dedicate yourself to the tasks at hand will make each day a little easier. When you choose the right furniture, security tools, and organizing components for your home office, you'll have no problem tackling your to-do lists!
Housing Starts Soar 22.6% in July as Americans Reenter the Housing Market in Droves
By Jacob Passy | Aug 18, 2020
The numbers: Home-building activity has staged a significant turnaround from the coronavirus-related slowdown.
U.S. home builders began construction on homes at a seasonally-adjusted annual rate of 1.496 million in July, up 22.6% from the previous month and 23.4% from a year ago, the U.S. Census Bureau reported Tuesday. The pace of home building is now 7% down from the pre-coronavirus high.
Permitting activity occurred at a seasonally-adjusted annual rate of 1.495 million, up 18.8% from June and 9.4% from July 2019.
Economists polled by MarketWatch had expected housing starts to occur at a pace of 1.252 million and building permits to come in at a pace of 1.33 million.
What happened: Increases in both single-family and multifamily starts contributed to the overall increase. Construction on buildings with five or more units increased 56.7% on a monthly basis, while single-family starts rose 8.2%.
Likewise, the increase in building permits occurred across all types of housing: one-unit homes (up 17%), homes with between two and four units (up 12.5%) and buildings with five or more units (up 23.5%).
"The gap between permitted homes and started homes continues to grow," said Danielle Hale, chief economist at Realtor.com. "This growing gap signals extra capacity on the permit side, but may mean that despite record confidence, builders have trouble completing jobs."
July single-family home completions were down 1.8% from June and 0.4% from a year ago.
All regions experienced an overall uptick in housing starts despite rising coronavirus cases across many parts of the country, led by the 35.3% increase in the Northeast. However, single-family starts actually fell slightly between June and July in both the Northeast and the Midwest. Permitting rose relatively uniformly across the country, with all four major regions seeing upticks.
Big picture: Americans' demand for homes was at a fever pitch before the pandemic, and it's now returned in earnest. Low mortgage rates have made buying a home a more affordable proposition for millions of Americans, while the reality of living, working and attending school at home has prompted many households to search for bigger properties, particularly in the suburbs.
However, there is a shortage of existing homes for sale to meet this excess demand. And that's creating more interest in newly-built homes, which is a boon to the home-building sector.
But the rise in homes sales amid the pandemic is not a uniquely American phenomenon — and that's actually a problem for U.S. buyers and builders. Home sales hit a record high in July in Canada, leaving America's northern neighbor with severe inventory constraints. As a result, housing starts in Canada have climbed to a two-and-a-half year high in July, according to an analysis from BMO Capital Markets.
Much of the lumber used to build homes in imported from Canada — and now with the surge in Canadian home-building activity, American builders are facing more competition for the product. All this demand came as a surprise to lumber producers, and lumber prices have skyrocketed as a result.
At the very least, that's threatening the margins for U.S. home builders. Down the road though it could mean higher prices for American home buyers.
What they're saying: "Would-be home buyers are heeding the calls of the suburban and the rural and, at the very least, of bigger abodes," Michael Gregory, deputy chief economist at BMO Capital Markets, wrote in a research note. "Meanwhile, single-family existing homes available for sale hit a new record low in June (seasonally adjusted), causing more purchasers to opt for the new home segment… or at least check it out."
"While risks remain to the homebuilding outlook, as these figures capture decisions made months ago, possibly prior to the acceleration in virus cases, with homebuilder confidence reaching a record high in August, the housing sector should remain one of the most resilient areas of the economy," Katherine Judge, an economist at CIBC Capital Market, wrote in a research note.
HUD Sec Carson and Rollins: Opportunity zones key to lifting people out of poverty
Opportunity zones make targeted tax cuts to spur business development and job growth
Ben Carson, M.D.
As the economy recovers, it is essential that low-income workers can resume the great trajectory of opportunity they were on before the pandemic hit.
Nearly 8,800 disadvantaged communities, home to approximately 35 million low-income individuals, are already seeing billions of dollars in new investments due to their status as "opportunity zones."
Monday, the Council of Economic Advisors (CEA) will release its analysis of the opportunity zone tax incentive, estimating that qualified opportunity funds have attracted over $75 billion in new capital investments in just two years, creating wealth and jobs in the places that need them most. CEA estimates that these investments will lift one million Americans out of poverty.
As the past 50 years of the War on Poverty has shown, revitalizing America's forgotten communities requires more than the tired suite of top-down policies. Traditional anti-poverty programs depend on higher taxes to fund food stamps, Medicaid or other transfers to eligible recipients.
The limitations of this approach are clear – higher taxes stifle job creation and eligibility requirements discourage employment. Likewise, efforts to revitalize specific communities have for too long relied on inefficient top-down federal grants and subsidies that empower Washington bureaucrats and special interests with lobbyists at the expense of communities in need.
In contrast, the opportunity zone provision of the 2017 Tax Cut and Jobs Act cuts out bureaucrats and empowers local communities by making targeted tax cuts to spur business development and job growth in disadvantaged communities across the United States. Anyone can invest in opportunity zones, investments can flow to diverse revitalization projects in the communities, and no prior approval is necessary.
Early in 2018, governors drew on their local expertise and nominated communities for designation as opportunity zones. These zones have an average poverty rate more than double other communities and are home to a much higher share of African Americans and other minorities.
The Department of the Treasury anticipated $100 billion in greater investment over the 10-year life of the opportunity zone incentive. CEA estimates that in just two years, this incentive has drawn $75 billion in private capital to qualified opportunity funds. This represents 21 percent of all annual investment in opportunity zone communities.
This capital is already making a difference growing businesses and expanding job opportunities. Investment in opportunity zone businesses grew 29 percent relative to non-opportunity zone businesses in eligible communities that were not selected.
https://www.foxnews.com/opinion/opportunity-zones-lifting-people-poverty-ben-carson-brooke-rollins
Local Real Estate Professional Brings Home National Honor
Press Release
FOR IMMEDIATE RELEASE
Broker★Agent™ Advisor Honors Achievement
Denver, Colorado 8-22-20
Now in its 25th year, Broker★Agent™ Advisor celebrates the success and accomplishment of the industry's finest real estate professionals through it's exclusive 'Certificate of Excellence' Program.
Through proprietary criteria, formulas, and other valuable considerations, Peter Janisch of Professional Brokers Group has been distinguished by Broker★Agent™ Advisor as one of the best in business based on achievement, potential, leadership, ethics, community value, experience, capability, and trust for their service during the calendar year of 2019.
"Peter Janisch exemplifies the type of professional we designed this award for," says Chad Golladay, Executive Publisher of Broker★Agent™ Advisor. "A true credit to their company, profession, and community both inside and outside of their real estate practice; one with whom the honor is truly ours in being able to share this award."
There is no cost or fee required for this award, and all applicant's credentials are verified, which makes this honor one of the most genuine in the industry towards identifying those truly worthy of special recognition and distinction.
Peter Janisch can be found in Broker★Agent™ Advisor's national online directory of award recipients here:
Time To End The Petrodollar Agreement With The Middle East,Transition Moving Forward
Report date: 08.21.2020
The US economy has now added 1.8 million jobs, 3x bigger that last administration. The economy is recovering we are seeing V shape recoveries everywhere. It is time to end the petrodollar war and to pull out. New deals must be made.
SCAMDEMIC SCIENCE: Coronavirus "cases" are medically meaningless, yet being used to justify weaponized lockdowns to destroy humanity
Thursday, August 20, 2020 by: Mike Adams
(Natural News) Notice how the mainstream media has stopped talking about coronavirus "deaths" and shifted to coronavirus "cases?" That's because the term "cases" is a misnomer. Any person who tests positive for the coronavirus is now considered a "case." So as more testing is being conducted, more "cases" are emerging.
But I've got news for the corrupt medical establishment: Testing positive for a virus does not create a "case" of illness.
As every doctor and virologist knows, a "case" is only established when a person has:
1) A symptomatic expression of illness
2) The presence of an identified pathogen that is known to cause such symptoms
Merely carrying a virus is not a "case." If that were true, then the vast majority of Americans would right now be diagnosed with "cases" of influenza, and we would be in a media-declared influenza pandemic panic.
Merely carrying a virus without showing symptoms of sickness doesn't make a "case"
The viral strains that people carry without symptoms don't matter much, it turns out. Most carriers aren't contagious, and most pathogens are harmless or latent unless the carrier suddenly experiences immune suppression (from something like the extreme stress of losing their job, for example, or being locked in their own homes).
Running around the country with covid-19 tests and finding more and more people who carry the virus without symptoms is not legitimate medicine. It's a scam. Or a "scamdemic" to be more precise. It does nothing for public health and is primarily used by the corrupt Big Pharma industrial complex to scam billions of dollars out of taxpayers by pretending everybody needs to be injected with high-profit vaccines.
There was a time, in mid-April, when the weaponized coronavirus was killing 1 in 10 people it infected, but as the virus lost many of its "gain of function" properties, it became far less lethal. This is called "host adaptation" and it's a well-known phenomenon in virology.
Now, the coronavirus is probably at least two orders of magnitude less fatal, which means most people who carry it won't be harmed by it. The vast majority won't even be symptomatic. The coronavirus circulating in the wild is rapidly approaching flu-like levels of coexistence with human hosts. And that means testing asymptomatic people for the presence of the virus achieves nothing other than spreading irrational panic about a disease that's no longer much of a threat to the masses. (But don't put it past evil globalists to release a whole new strain that's weaponized in a whole new way, as that seems to be their model for global domination and anti-human genocide.)
There was a time, early in the pandemic, when testing everyone made sense. It was necessary to identify "asymptomatic carriers" who were able to pass the pathogen to others. We saw so-called "super spreaders" in early 2020, including people in South Korea who infected hundreds of others without even knowing it.
But as the lethality of the virus has now plummeted, the justification for testing asymptomatic people for the mere presence of the virus has evaporated. It's no longer medically justifiable to conduct such tests unless a person is showing obvious symptoms of sickness.
The CDC always chooses whatever course of action makes the most money for vaccine companies
I find it interesting that when asymptomatic testing was necessary, the CDC opposed it, arguing that only symptomatic people should be tested. This led to an explosion in the number of people infected in February, March and April. But now that asymptomatic testing is no longer necessary, the CDC wants everyone tested, in order to perpetuate the scamdemic "case" numbers and generate more demand for high-profit vaccines.
In other words, the CDC can always be counted on to take whatever action promotes the spread of the pandemic and therefore promotes the financial interests of vaccine makers.
The simple truth in all this is that the CDC and Big Pharma are criminal cartels that exploit this engineered "plandemic" to enslave humanity and extract insane profits from taxpayers.
That's what this has always been about from the very start. That's why you also need to see the bombshell new documentary film, "Plandemic II: inDOCTORnation."
The full-length film is available at this link on Brighteon.com:
Brighteon.com/d6412bff-0421-4190-a7bf-3e5e1f52559d
Consider this film to be a "must-see" documentary that will absolutely blow your mind and forever change your understanding of the total corruption of the "science" establishment and the for-profit medical system. In essence, a group of evil people built this virus and released it onto the world so they could crush humanity and earn billions in profits. Even more shockingly, this isn't the first time they've tried this.
The Solution to 1984 is 1776…
Posted on August 20, 2020 by sundance
When we see that justice is measured, not by due process, but by compulsion; when we see that in order to invoke our right to due process, we need to obtain permission from those who rebuke the constitution; when we see that justice is determined by those who leverage, not in law, but in politics; when we see that representatives get power over individual liberty by graft and by scheme, and our representatives don't protect us against them, but protect them against us; when we see corruption holding influence and individual liberty so easily dispatched and nullified; we may well know that our freedom too is soon to perish….
As we bear witness, anyone trying to convince us this entire assembly of our union is headed in the right direction, well, they might want to revisit their proximity to the 2020 election ballpark. Because they're not just out of the city – they're also out of the same state the election ballpark is located in….. Then again, the media know that.
David Mamet had a famous saying, essentially: …'in order for democrats, liberals, progressives et al to continue their illogical belief systems they have to pretend not to know a lot of things'… By pretending 'not to know' there is no guilt, no actual connection to conscience. Denial of truth allows easier trespass.
This hate-filled and manipulative Democrat ideology relies on our willingness to accept their lies, falsehoods, and scripted presentations; and then demand we grant benefit amid their seeds of doubt.
There's a level of anger far deeper and more consequential than expressed rage or visible behavior, it's called Cold Anger.
Cold Anger does not need to go to violence. For those who carry it, no conversation is needed when we meet. You cannot poll or measure it; specifically because most who carry it avoid discussion… And that decision has nothing whatsoever to do with any form of correctness.
We watched the passage of Obamacare at 1:38am on the day before Christmas Eve in 2009. We watched the Senate, then the House attempt passing Amnesty in 2014. We know exactly how it passed, and we know exactly why it passed. We don't need to stand around talking about it….
We know what lies hidden behind "cloture" and the UniParty schemes.
We watched the 2009 $900+ billion Stimulus Bill being spent each year, every year, for seven consecutive years. Omnibus, Porkulous, QE1, QE2, Bailouts, Crony-Capitalism. We know exactly how this works, and we know exactly why this ruse is maintained. We don't need to stand around talking about it…. We're beyond talking.
We accept that the entire Senate voted to block President Trump's ability to use recess appointments in 2017, 2018, 2019 and 2020. Every.Single.Democrat.And.Republican.
Cold Anger absorbs betrayal silently, often prudently.
We've waited each year, every year, for twelve years, to see a federal budget, only to be given another Omnibus spending bill by "CONservative" politicians.
We've watched the ridiculing of cops, the riots, and the lack of support for laws, or their enforcement. We've been absorbing all that. We've been exposed to violence upon us by paid operatives of the organized DNC machine. We know; the media trying to hide it doesn't change our level of information.
Cold Anger is not hatred, it is far more purposeful.
We watched in 2012 as the Democrat party thrice denied God during their convention. The doors to evil enterprise opened by official proclamation and request.
Cold Anger takes notice of the liars, even from a great distance – seemingly invisible to the mob. Cold Anger will still hold open the door for the riot goer. Mannerly.
We've watched our borders being intentionally unsecured.
We've watched Islamic Terrorists slaughter Americans as our politicians proclaim their uncertainty of motive. We know exactly who they are, and why they are doing it. We do not need to stand around discussing it…. we're clear-eyed.
Cold Anger evidenced is more severe because it is more strategic, and more purposeful. Eric Cantor's defeat, Matt Bevin's victory, Brexit, Donald Trump's highest vote tally in the history of presidential primaries or President Trump's victory might aide your understanding.
Cold Anger does not gloat; it absorbs consistent vilification and ridicule as fuel. This sensibility does not want to exist, it is forced to exist in otherwise unwilling hosts – we also refuse to be destabilized by it.
Transgender bathrooms are more important than border security.
Illicit trade schemes, employment and the standard of living in Vietnam and Southeast Asia are more important to Wall Street and DC lobbyists, than the financial security of Youngstown Ohio.
We get it. We understand. We didn't create that reality, we are simply responding to it.
The intelligence apparatus of our nation was weaponized against our candidate by those who controlled the levers of government. Now, with sanctimonious declarations they dismiss accountability.
Deliberate intent and prudence ensures we avoid failure. The course is thoughtful vigilance; it is a strategy devoid of emotion. The media can call us anything they want, it really doesn't matter…. we're far beyond the place where labels matter.
Foolishness and betrayal of our nation have served to reveal dangers within our present condition. Misplaced corrective action, regardless of intent, is neither safe nor wise. We know exactly who Donald Trump is, and we also know what he is not.
He is exactly what we need at this moment.
He is a necessary, defiant and glorious fighter.
He is our weapon.
Cold Anger is not driven to act in spite of itself; it drives a reckoning.
When the well attired leave the checkout line carrying steaks and shrimp using an EBT card, the door is still held open; yet notations necessarily embed.
When the U.S. flags lay gleefully undefended, they do not lay unnoticed. When the stars and stripes are controversial, yet a foreign flag is honored – we are paying attention.
When millionaire football players kneel down rather than honor our fallen soldiers and stand proud of our country, we see that. Check the NFL TV ratings – take note.
When a school community cannot openly pray, it does not mean the prayerful were absent.
When a liar seems to win, it is not without observation. Many – more than the minority would like to admit – know the difference between science, clocks and political agendas.
Cold Anger perceives deception the way the long-term battered absorb a blow in the hours prior to the pre-planned exit; with purpose.
A shield, or cry of micro-aggression will provide no benefit, nor quarter. Delicate sensibilities are dispatched like a feather in a hurricane.
We are patient, but also purposeful. Pushed far enough, decisions are reached.
[…] On the drive to and from the East Coast, I paid attention to the billboards and bumper-stickers. Folks, the people in "Fly over" country are PISSED, from the guy that guides hunters, to the mayors of towns and cities, to state senators congressmen and Governors who are voting to arrest and imprison federal law enforcement officials for enforcing federal gun laws that don't agree with state law … The political pendulum has never, in the history of humanity, stayed on one side of a swing. The back lash from over reach has always been proportionate to how far off center it went before coming back … right now we're staring at a whole hell of a lot of the country (about 80-90% of the land mass, as well as about 50+% of the population) that is FED UP. You really don't want those guys to decide that the only way to fix it is to burn it down and start over…
Thoughts on the road. – William Lehman
It's too late…
This man has faced opposition that would overwhelm any other President. Our chosen President is constantly attacked by those holding a corrupt, conniving and Godless leftist ideology. It is our job now to stand with him, firm on his behalf.
To respond we must engage as an insurgency. We must modify our disposition to think like an insurgent. Insurgencies have nothing to lose. If insurgents are not victorious the system, which controls the dynamic, wins. However, if insurgents do nothing, the same system, which controls the dynamic, also wins.
Do nothing and we lose. Go to the mattresses, and we might win. The choice is ours.
Right now, through November 2020, every day is Saint Crispins day.
If we are mark'd to die, we are enow
To do our country loss; and if to live,
The fewer men, the greater share of honour.
God's will! I pray thee, wish not one man more.
By Jove, I am not covetous for gold,
Nor care I who doth feed upon my cost;
It yearns me not if men my garments wear;
Such outward things dwell not in my desires.
But if it be a sin to covet honour,
I am the most offending soul alive.
No, faith, my coz, wish not a man from England.
God's peace! I would not lose so great an honour
As one man more methinks would share from me
For the best hope I have. O, do not wish one more!
Rather proclaim it, Westmoreland, through my host,
That he which hath no stomach to this fight,
Let him depart; his passport shall be made,
And crowns for convoy put into his purse;
We would not die in that man's company
That fears his fellowship to die with us.
This day is call'd the feast of Crispian.
He that outlives this day, and comes safe home,
Will stand a tip-toe when this day is nam'd,
And rouse him at the name of Crispian.
He that shall live this day, and see old age,
Will yearly on the vigil feast his neighbours,
And say 'To-morrow is Saint Crispian.'
Then will he strip his sleeve and show his scars,
And say 'These wounds I had on Crispian's day.'
Old men forget; yet all shall be forgot,
But he'll remember, with advantages,
What feats he did that day. Then shall our names,
Familiar in his mouth as household words-
Harry the King, Bedford and Exeter,
Warwick and Talbot, Salisbury and Gloucester-
Be in their flowing cups freshly rememb'red.
This story shall the good man teach his son;
And Crispin Crispian shall ne'er go by,
From this day to the ending of the world,
But we in it shall be remembered-
We few, we happy few, we band of brothers;
For he to-day that sheds his blood with me
Shall be my brother; be he ne'er so vile,
This day shall gentle his condition;
And gentlemen in England now-a-bed
Shall think themselves accurs'd they were not here,
And hold their manhoods cheap whiles any speaks
That fought with us upon Saint Crispin's day.
The awakened American middle-class insurgency, led by Donald Trump, is an existential threat to the professional political class and every entity who lives in/around the professional political class. Their entire political apparatus is threatened by our insurgency. The political industry, all of corrupt governance, is threatened by our support through Donald Trump.
Decision time.
You know why the entire apparatus is united against President Trump. You know why the corrupt Wall Street financial apparatus is united against President Trump. You know why every institutional department, every lobbyist, every K-Street dweller, every career legislative member, staffer, and the various downstream economic benefactors, including the corporate media, all of it – all the above, are united against Donald Trump.
Donald Trump is an existential threat to the existence of a corrupt DC system we have exposed to his disinfecting sunlight. Donald Trump is the existential threat to every entity and institution who benefits from that corrupt and vile system.
They too have nothing to lose; their desperation becomes visible within their apoplexy; and they're damn sure displaying it.
Do not look away.
Throw aside the sense of discomfort and bear witness to the evil we oppose. Do not turn your eyes from the hatred focused in our direction. Stand firm amid the solace of our number and resolve to the task at hand.
Leftists who oppose our efforts hold positions that are weak, push back against them. They rely on fear…. they relish misery and despair… do not give it to them. Let them stare into the Cold Anger furnace.
Who fuels that furnace?
…..US !
David Icke: The Answer to Getting People to Activate Their Will
The Alex Jones Show
David Icke joins The Alex Jones Show to break down the secret to getting people to activate their will and overcome the oppressive authoritarian takeover of society.